News - March 2018
February Meetings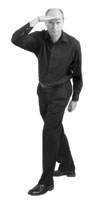 Two good meetings were held in February.
The first meeting was on the 13th: Predictions with Dave hosting. He spoke about the very earliest magicians gaining their reputation through predictions, eg forecasting solar eclipses, etc. In particular, he spoke about Nostradamus. He spoke about the various types of tricks that can be presented as predictions and mentioned some of the props used. He showed us one or two effect and the invited the membership to show what they had prepared. There was some good stuff on show (even with Dave doing a few more bits & pieces) and lots of variation. Once again, almost everyone present performed something and contributed to a good night.
The second meeting (held on the 27th) was all about Pocket Management and Table Hopping with Ivor hosting. Ivor (left) discussed many interesting points that any close-up performer should consider and went into a little more detail for restaurant/table workers. He gave us some great tips and advice. His demonstration of how and why he loads himself up was fascinating. Other members gave their views and shared ideas. Jeff and Garry in particular spoke at length and gave us practical demonstrations. All in all, another splendid night.
March Meetings
March opens on the 13th with our first competition of the year, The Ron Gordon Cup which is presented for excellence in Card Magic. The host has not yet been finalised but the likelhood is that Garry will act as host and MC. This will confirmed nearer the time. Practice your finger flinging and enter the fray.
To the 27th when Boris Wild will be our guest when he presents our first lecture of the year. I can gurantee that this will be entertaining, informative and amusing. Boris is properly brilliant and I am hugely looking forward to this one!
Announcements
There is a Society email list available, thanks to the efforts of Mr. McGrath. To join the list, simply send an email to: john@magicbyjohn.co.uk or contact John or Dave. If we can get everyone in the Society onto the list it will greatly help in the distribution of information and allow us all to communicate swiftly and securely.
We have another, new group address which James looks after. Contact him for all of the details.
Next Month
April looks rather good! We'll start on the 10th with our President, Garry Seagraves, hosting an evening billed as President's Night. Garry is celebrating thirty years of membership of Aberdeen Magical Society and felt it would be apt for him to host a night of his own invention. This will be great, I guarantee it!
To the 24th when Eoin Smith will be host for a Quiz Night. As an Uber Magic nerd, I can't wait!
Lapsed or Errant Member?
Are you a former member of the Aberdeen Magical Society? Have you lost touch with any current members and want to re-establish ties? Then drop us an e-mail at mail@aberdeenmagic.com or click on contact us.