News - February 2018
January Meetings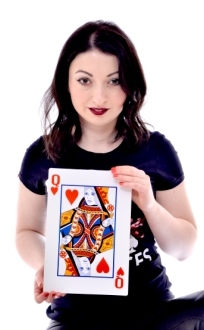 There were two splendid meetings held in January and if the year carries on in this fashion with the same quality of content, we are in for yet another tremendous year of magic.
The first meeting was on the 9th and it was an Ace of Spades Night, with the additional attraction of cake! The evening was hosted by Cathy (pictured left), who also baked the marvellous triple-decker cakes, one of chocolate, the other being vanilla and coconut Eton Mess sponge.
As is usual with such evenings, everyone present performed a piece of magic. Ivor seemed to have a magnetic pull on the ace and presented several items for us. The magic was uniformly splendid and included magic with cards, coins, paperclips, diet coke, ESP cards and other stuff; the company was convivial and the cake delicious. As perfect an evening as one could wish for.
The second meeting (held on the 23rd) was all about Coins and Money Magic and our host was the President, Garry Seagraves. Garry demonstrated some really, really good effects, many that he currently has in his working sets. Among many other things he showed us two variations of Coin in Bottle (and led a fairly lengthy discussion about the effect) and, of course, showed us one of his signature pieces, his Bill Switch. This led to a thorough debate about the use and handling of the new fangled plastic notes and how to get around their awkwardness.
The President then invited the Membership present to show us what they had with them by way of coins and money effects. It was not disappointing! Almost everyone performed something; some people showed of multiple items. We had a good night and the time vanished with Garry closing the meeting while we still wanted more..
February Meetings
February will start on the 13th with the subject matter being Predictions, the Vice President Dave hosting. Please come along with some prediction effects. There are lots of variations to choose from and this should prove to be a very interesting and hopefully entertaining event.
The second event for February promises to be extremely intesting. Ivor is hosting Pocket Management and Table Hopping, a subject in which Ivor has vast experience and is not only highly knowledgable but can impart that knowledge in an effective and interesting way. Don't miss this meeting!
Announcements
There is a Society email list available, thanks to the efforts of Mr. McGrath. To join the list, simply send an email to: john@magicbyjohn.co.uk or contact John or Dave. If we can get everyone in the Society onto the list it will greatly help in the distribution of information and allow us all to communicate swiftly and securely.
We have another, new group address which James looks after. Contact him for all of the details.
Next Month
March opens on the 13th with our first competition of the year, The Ron Gordon Cup which is presented for excellence in Card Magic. The host has not yet been finalised but the likelhood is that Garry will act as host and MC. This will confirmed nearer the time. Practice your finger flinging and enter the fray.
To the 27th when Boris Wild will be our guest when he presents our first lecture of the year. I can gurantee that this will be entertaining, informative and amusing. Boris is properly brilliant and I am hugely looking forward to this one!
Lapsed or Errant Member?
Are you a former member of the Aberdeen Magical Society? Have you lost touch with any current members and want to re-establish ties? Then drop us an e-mail at mail@aberdeenmagic.com or click on contact us.