News - December 2017
November Meetings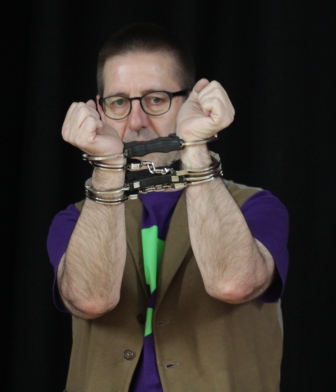 We got together on three occasions during November and we had great fun!
The first meeting (on the 14th) was a lecture on Escapology, delivered by Dave (pictured). He covered the history of Escapology, some of the famous names from the art; spoke about handcuffs, ropes, bags, boxes, milk churns and straitjackets, among other things. He gave out lecture notes and some props (extra goodies for those who volunteered to help) and got Cathy to show the Shanghai Shackles and how to pick handcuffs with a paperclip. He showed a rope tie, shimming handcuffs, how to get out of Duck Tape, a Mail Bag escape, escaping from his own jacket and finished off by getting out of a straitjacket.
On Wednesday the 22nd we got together at the Blue Moon Restaurant and indulged in some splendid comestibles. This has now developed into an annual fixture on the calendar: the Society Curry Night. I am pretty sure that everyone enjoyed it and there was a good bit of magic on show too.
On the 28th was the Social Night. The numbers were about the same as last year, maybe up a little. Regardless, we made a nice wee profit and thoroughly entertained our guests. Thanks must go to the ten performers: Norn & Darren; Jeff & Ivor; Eoin; Steve; Jim; James; Cathy and Garry, to Ron, Paul and Dave who hosted rooms, to Maureen, Margaret, Neil, Jenny and Tara who pointed the guests in the right direction and took money off them and to the bar staff at the Sportsman's Club who did a great job.
December Meetings
December is always a fairly calm month in terms of goings-on as a Society; the main reason is that everyone is way too busy doing Christmas and holiday shows.
The only meeting is on the 12th. Ron will host a Technical Evening but he could come up with absolutely anything! It is usually a night of great fun with terrific magic on show. If everyone comes prepared with an item or two, we're guaranteed a good one
Announcements
There is a Society email list available, thanks to the efforts of Mr. McGrath. To join the list, simply send an email to: john@magicbyjohn.co.uk or contact John or Dave. If we can get everyone in the Society onto the list it will greatly help in the distribution of information and allow us all to communicate swiftly and securely.
Next Month
January 2018 is nearly uopn us. There will be the usual two meetings, with the first on the 9th when we'll have an Ace of Spades Night with Cake. We even have a volunteer to host the event and, most importantly, provide the cake. Cathy has said the she will look after things. Come prepared with a couple of items. If Santa coughs up something magical, it could be a good time to debut it!
The second meeting is on the 23rd but as yet we have neither a topic or a host but bear with us - the Committee will meet and come up with a Programme for 2018 very soon.
Lapsed or Errant Member?
Are you a former member of the Aberdeen Magical Society? Have you lost touch with any current members and want to re-establish ties? Then drop us an e-mail at mail@aberdeenmagic.com or click on contact us.