News - October 2017
September Meetings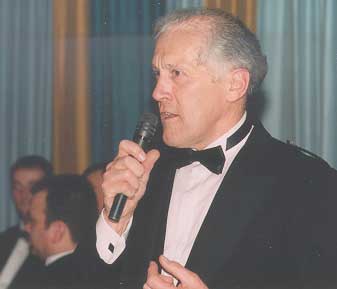 There were two meetings in September and what fun they were! We started off on the 14th. The meeting was "Tricks from a Book" with Norn hosting.
This was one of those meetings were everybody relaxed and had fun. There was great magic on show and practically everyone who attended performed. Norn kept things flowing nicely and we all had some fun. It was enhanced (if that was possible) by our Honorary Life President awarding prizes to all of those who presented an effect. These awards were ties, tie clips, cufflinks, badges, etc. All were very well received!
The meeting officially closed around ten o'clock when the President thanked Norn for his efforts but it continued informally in the bar until a while later.
Two days later was our fund-raising show in conjunction with Fishermoss Primary School, Northern Sleights, held at Portlethen Academy. You can see snippets from the show on YouTube and Facebook; just search for Aberdeen Magical Society. Needless to say it was a tremendous show and a nice bit of money was made. We should do it again very soon.
The second meeting was on the 26th when our Honorary Vice President and Past President Peter Nicol (pictured) told us all about his favourite close-up "workers", ie those effects that he has honed to perfection over the years. Not only that but he demonstrated them, explained them at length and answered any questions posed. What a great night it was too. It was wonderful to see Peter on great form, wowing veterans and new kids alike; it was lovely to see his daughter Mandy too. Afterwards, Peter was selling some close-up props at a very reasonable cost. Sadly, I was too slow to take advantage! Maybe after his "stage" night...
October Meetings
October is looking pretty good, but with a change to the additonal meting that was previously added to the schedule. This extra meeting, on the 3rd, is now a chance for us all to view and comment on the recent show at Portlethen Academy, Northern Sleights. This will be an informal night with no minutes or other business. Our thanks go to those chaps who have prepared their filmed offerings. If nothing else, it will be great to see the show as the audience did. I also have heard a rumour that there may be cake provided!
On the 10th, Garry will host our competition for Entertainment, The Jocky Scott Trophy. This year the competition will be fierce and a huge field of entrants is expected. So get practicing and make it as brilliant a night as it usually is.
The second meeting, to be held on the 24th, is the final TED night of the year. This will be a free-style TED event, hosted by Cathy Lewis. Cathy will be looking for volunteers, so if you have a fifteen minute presentation, effect, routine or lecture, please let her know.
Announcements
There is a Society email list available, thanks to the efforts of Mr. McGrath. To join the list, simply send an email to: john@magicbyjohn.co.uk or contact John or Dave. If we can get everyone in the Society onto the list it will greatly help in the distribution of information and allow us all to communicate swiftly and securely.
Next Month
November is always a very exciting month; the one in which we try to raise as much money as possible.
We'll start on the 14th. Dave will host an evening all about one of his favourite branches (or cousins) of magic, Escapology. This presentation will cover a lot of the basics of the subject, with demonstrations and a chance for everyone there to try some things for themselves. Having said that, should anyone want to show us their take on Escapes, please come prepared.
The second event, to be held on the 28th, is our annual Social Night, organised by Steve Meredith and Dave. As always, we'll be looking for volunteers to peform (eight acts) plus room hosts, ushers, raffle sellers and ticket collecters. Most importantly, we need an audience, so please try your very best to sell as many tickets as possible. Eoin will once again lead our publicity drive and will be happy to help and advise anyone who needs.
Lapsed or Errant Member?
Are you a former member of the Aberdeen Magical Society? Have you lost touch with any current members and want to re-establish ties? Then drop us an e-mail at mail@aberdeenmagic.com or click on contact us.