News - May 2018
April Meetings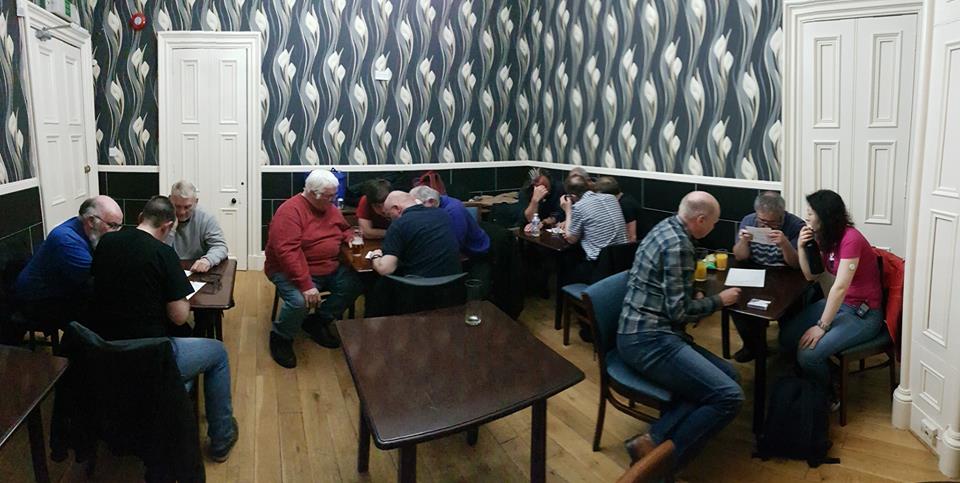 Two more tremendous meetings were held in April. The year just gets better and better!
The first meeting was on the 10th and it was the President's Night with Garry as host, presenter and raconteur. Garry spoke about his start in magic, his early influences and then showed us a short video. This was filmed at his recent show at the Tivoli and included the first few minutes of his act. It included card and ball manipulations, his doves, appearing cane and vanishing candle, the wonderful dancing handkerchief and Babe in a Box. Garry then spoke about all of the effects that were shown, how they were performed and why, his routining, his music, his outfits – everything really! He paid tribute to Jenny for adding glamour and doing all of the work!
He spoke more about his work and life in magic and showed us some more video from the olden days and related some marvellous anecdotes about life on the road, his early days and learning curve, etc. It was a fantastic presentation. After the end of his piece, which was warmly applauded by the members, Dave thanked him for the evening and paid tribute to the work he does in his Presidency. Garry was again in receipt of an ovation.
The second meeting (held on the 24th) was a Quiz Night with Eoin hosting. Eoin had compiled a very interesting and challenging set of questions and acted as quizmaster. We were randomly divided into four teams of three or four members. The first task was to come up with a suitable name. Eoin then grilled us for six gruelling rounds of interrogation. The competitiveness was surprisingly fierce and the tension and atmosphere could be cut with a knife. There is photographic evidence (above) of the total concentration displayed by all of the competitors.
As ever, there could only be one winning team (and three groups of sorry losers) which was The Evil Santas. This team was brilliantly led by the giant brain belonging to Norn Bichan, dragging along Dave Goulding and Ian Guthrie to bask in reflected glory. Peter Nicol provided a goodie bag as a much appreciated prize. Garry thanked Eoin for his splendid efforts in compiling the questions and overseeing the event. It was a great night!
May Meetings
May is the first month this year when we have three meetings. On the 1st we'll have an extra meeting and what a meeting! We have the privilege of hosting the legendary Gregory Wilson who will lecture for us. Gregory has recently had a bit of a health scare but like the trooper that he his, he has not cancelled a single leg of his tour (he had to rearrange one or two though).
The second meeting is on the 8th and will be an Event held to mark Peter Nicol's investiture as a Member of the Most Excellent Order of the British Empire. This will be held a little closer to Peter's home, as is befitting.
On the 22nd, Bottles and Balls is the theme for an evening which Jeff will host. I'm sure that he will give some more information nearer the time but I think that it will be pretty much as advertised, with Jeff's own twist to it.
Announcements
There is a Society email list available, thanks to the efforts of Mr. McGrath. To join the list, simply send an email to: john@magicbyjohn.co.uk or contact John or Dave. If we can get everyone in the Society onto the list it will greatly help in the distribution of information and allow us all to communicate swiftly and securely.
We have another, new group address which James looks after. Contact him for all of the details.
Next Month
June is shaping up nicely too. On the 12th we will hold our competition for Close Up magic. This will be a great night, full of wonderful magic and exciting but friendly competition.
The second meeting is on the 22nd and will be the first TED Night of the year. The hosts and subjects are yet to be announced but If it is anything like last previous examples, it will be good.
Lapsed or Errant Member?
Are you a former member of the Aberdeen Magical Society? Have you lost touch with any current members and want to re-establish ties? Then drop us an e-mail at mail@aberdeenmagic.com or click on contact us.